If you're new here, this is a newsletter of things I find interesting. There's a bit more to it but that's basically it.
---
The AI space is moving at a rapid space. Even at the time of writing this the drama that went down over this past weekend has most likely shifted the long-term trajectory for us all. A couple of recent resources I've found worthwhile:
Every (publication) – A publication on business and tech. In particular a lot of great writing on AI/LLMs of late. Started by Dan Shipper and Nathan Baschez the publication sets out to ".. synthesize and build connections among business, technology, and the humanities." The fact that the writers are also coders who are tinkering themselves makes it all the better.
What AI Means For Your Product Strategy (podcast) – Intercom's CPO, Paul Adams, has a candid chat with Lenny about how AI will affect his (and your) product's strategy. Particularly interesting given Intercom's position in the path of change AI is forging.

.. and too much Twitter.
Two worthwhile CEO interviews on company building below. One commonality between them is perhaps that both CEOs have successfully forged outlier approaches that go against common VC-backed and classic corporate scaling dogmas.
Brian Chesky's new playbook (podcast) – Talks about forging his own path for the company's future during the tumultuous times of the pandemic. From a business, leadership and culture perspective this was a great listen all round.

I also very much respect the shakeup on the product role at Airbnb. Not something that suits all but sounds a great approach for them.

20VC: Flexport's Ryan Petersen (podcast) – This chat with Ryan post his return (and ouster of Dave Clark) to the CEO role almost makes it seem he never left. Some great insights from both the early founder days and current growth stage challenges.
---
Try it Out
Reimagining the browser – Arc is my new default browser and fav new(ish) product of late. The team and company behind it The Browser Company are also raising the bar on the product marketing front. Check out their YouTube for a sample.
---
Artist Watch
The sculptor turns out to be a painter – Joseph Lee, the actor behind BEEF's character George (a sculptural artist in the show) turns out to be a pretty stellar conceptual artist painter irl. More context shared in a Vanity Fair interview here.
Rae Klein's mythic world – Despite finding her on Instagram, Rae Klein's work really stood out far beyond the usual insta art scene. ArtNews describers her work as "The constellation of objects and landscapes she pulls together are like the points of a witch's pentagram, transporting audiences into a parallel, mythical world."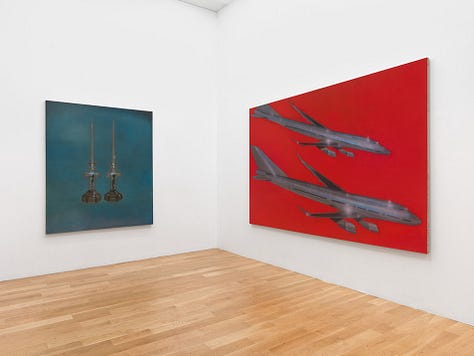 (Pieces from either artist are now officially sitting on my Christmas wish list btw.)
---
And the rest
---
Thanks for reading Plein Air. Subscribe for free to receive the odd ramble (like this one) straight to your inbox.